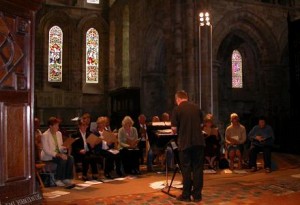 The choir was established in 1983, and is still directed by its founder, Kieran Fitzsimons. We currently have about 30 people who sing with us, some who live locally but others from as far away as London. Most of us also sing regularly with other choirs; the Northern Sinfonia Chorus, the Royal Choral Society, the National Youth Choirs, various cathedral choirs, the Royal Northern College of Music, and some of the Oxbridge college chapels have been represented in recent years.
Unusually for a choir of this standard, we maintain a general policy of open access without auditions. When we meet we work quickly, with few but intensive rehearsals, and our singers are the sort of people who relish the challenge of putting a quality performance together in a short time with limited resources. We enjoy our singing, and aim for an atmosphere that is both relaxed and professional.
The age range is wide, from students to the retired, and those under 18 are welcome by arrangement.
The choir's director, Kieran Fitzsimons, is a professional music teacher, an organist, and has 30 years' experience as a cathedral lay clerk (at Ripon then Newcastle). He has been responsible for the music at special events in both cathedrals. Kieran took an M.A. in Composition from Huddersfield University in 1994 as a mature student, and more recently found time to complete an M.Phil. in church music at Newcastle University, where for a while was the university organ scholar. He still plays for graduation ceremonies (including his wife's PhD in 2007!), and as a freelance musician he enjoys working with instrumentalists from the Northern Sinfonia and elsewhere.
In between school commitments, Kieran also directs various musical events and courses in the north-east. His arrangements of local songs (currently in collaboration with traditional singers) are becoming increasingly popular.
Kieran is assisted by his wife, Janet Simkin (an ecologist in real life) as our choir administrator and librarian.
We have had a number of talented accompanists over the years.  At the cathedral we have had the privilege of working with Tim Hone, Scott Farrell, Michael Stoddart, and now Ian Roberts, or their successive Assistants (currently Kris Thomsett).