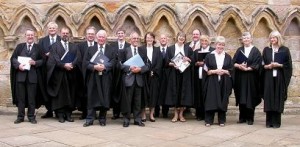 Most years we meet in late August for a residential course based in Newcastle. The choir can then reach its full strength (up to 30 singers, with equal numbers of men and women), so that we can tackle the more demanding six and eight part music. Having a mixed alto line widens our scope even more.
In recent years the summer week has been based on choral services at Newcastle Cathedral, Hexham Abbey, and other local churches. We always explore a wide range of music from the 16th to the 21st centuries, including some unfamiliar pieces – a decade ago we gave the first Newcastle performance of "The Queens' Service" by Stanford. By arrangement with English Heritage, we also put on a concert in the lovely setting of Brinkburn Priory in rural Northumberland during the course.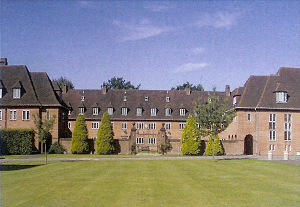 In July 2015 we sang Evensong at St James & St Basil, Fenham, to welcome two newly ordained clergy. As so often, we enjoyed the support and the company of friends from Ripon Cathedral.
In August we met from Friday 28th to Monday 31st, with Sunday services and the Brinkburn concert on Monday. Unusually we featured two excellent boy choristers, both of them on-going participants in the research work of Professor Martin Ashley into boys' voices – you can hear them on our 'AUDIO' page.  For the first time we also used city centre residences of Northumbria University, within walking distance of the cathedral (this picture shows Henderson Hall of Newcastle University, a couple of miles out of town).
Our August 2016 weekend was from Friday 26th to Monday 29th, at the cathedral and Brinkburn, again based at the Northumbria flats – complete with a nearby Hen Party!
We held a similar, very successful weekend in August 2017. Music included a Mass by Palestrina, the D Minor Mag & Nunc by Walmisley, and some York-connected pieces to mark the forthcoming 100th birthday of Dr Francis Jackson. In 2018 the William Hill organ at Brinkburn turned 150 years old – celebration events were held, and some of us sang there besides at the cathedral.
August 2019 saw us move our 'date' one week forward, away from the usual Bank Holiday. We sang cathedral Evensong on Friday 16th, the Brinkburn concert on Saturday 17th, and the usual cathedral services on Sunday 18th. We were delighted to meet Sophie Biddell from Oxford (who had been a student there at the same time as Gilly Box and Chris Fitzsimons), and we hope to build on this new contact.  At the time of writing (Spring 2020), everyone's plans are thrown into uncertainty due to the health crisis; but as and when restrictions are eased, we hope to sing again.  Details will be shown  here, and on our 'NEWS' page.