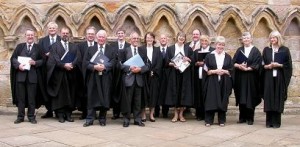 Most years we meet in late August for a residential course based in Newcastle. The choir can then reach its full strength (up to 30 singers, with equal numbers of men and women), so that we can tackle the more demanding six and eight part music. Having a mixed alto line widens our scope even more.
In recent years the summer week has been based on choral services at Newcastle Cathedral, Hexham Abbey, and other local churches. We always explore a wide range of music from the 16th to the 21st centuries, including some unfamiliar pieces – 20 years ago we gave the first Newcastle performance of "The Queens' Service" by Stanford. By arrangement with English Heritage, we also put on a concert in the lovely setting of Brinkburn Priory in rural Northumberland during the course.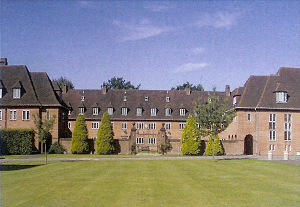 In July 2015 we sang Evensong at Fenham (see 'PROGRAMME'); as so often, we enjoyed the support and the company of our Ripon friends. In August we met for the usual holiday 'long weekend', with Sunday services and the Brinkburn concert on Monday. Unusually we featured two excellent boy choristers, both of them on-going participants in the research work of Professor Martin Ashley into boys' voices – you can hear them on our 'AUDIO' page. For the first time we also used city centre residences of Northumbria University, within walking distance of the cathedral (this picture shows Henderson Hall of Newcastle University, a couple of miles out of town).
Our August 2016 weekend was from Friday 26th to Monday 29th, at the cathedral and Brinkburn, again based at the Northumbria flats – complete with a nearby Hen Party!
We held a similar, very successful weekend in August 2017. Music included a Mass by Palestrina, the D Minor Mag & Nunc by Walmisley, and some York-connected pieces to mark the forthcoming 100th birthday of Dr Francis Jackson.
In 2018 the William Hill organ at Brinkburn turned 150 years old – celebration events were held, and some of us sang there besides at the cathedral. Just two August 2018 weekend events, at Newcastle and Brinkburn; but once again with very favourable comments from the cathedral and the Monday audience.
August 2019 saw us move our 'date' one week forward, away from the usual Bank Holiday. We sang cathedral Evensong on Friday 16th, the Brinkburn concert on Saturday 17th, and the usual cathedral services on Sunday 18th. We welcomed Kevin Paynes, who conducted while Kieran accompanied some of the music; we were also delighted to meet Sophie Biddell from Oxford (who had been a student there at the same time as Gilly Box and Chris Fitzsimons), and we have built on this new contact. During 2020, everyone's plans were thrown into uncertainty due to the health crisis; and Newcastle Cathedral was closed due to radical building work. We were offered Oxford summer dates; but Christ Church Cathedral then had to cancel all its summer choirs.
In 2021 many choirs finally returned to singing. In early August Kevin directed a successful weekend at Ripon with his group Voces Seraphorum, and two weeks later a determined dozen from Fitz Choir (including four of the 'Yorkies') made it to Oxford, singing five cathedral services. Kieran shared directing and playing with Tamsin Brown, well known in Newcastle for her 7 years' work as D-o-M at St John's church. It was sad that about half of the people invited to Oxford had to decline, virtually all because of the health scare; and that for similar reasons preliminary events in the north weren't viable. However, singing in a small, competent group is always a good experience. The visit was a success – as one singer put it, 'against all the odds'. As summer 2021 marked Kieran's 50 years in church music, we celebrated with an excellent curry on the Friday evening. Special thanks are due to Sophie (our Oxford 'insider') for joining us, giving invaluable help sorting out various 'admin' issues… and not least for recommending a great restaurant for the curry!